The Most Fun Fire Truck Toys For Your Lil' Firefighter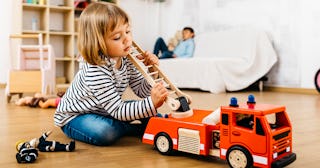 Getty Images/Westend61
My son is obsessed with fire truck toys. They were his first real love. Now that he's three-and-a-half, his affection for fire trucks and firefighters continues to evolve. When he was a baby, he was drawn to their lights and loud sounds. Now, he likes to pretend he's a firefighter himself — on call for the next emergency. If your kid is anything like mine, you probably spend a considerable amount of time searching for fire trucks for kids. And garbage trucks. Or really anything on wheels, including four-wheelers.
If there's one thing my boy's fire truck fandom has taught me, it's that not all fire trucks are created equal. From Play-Doh sets and beyond, here are 10 fun fire truck toys that will bring a unique take to this kidhood classic.
Best Fire Truck Toys
Fire Truck Toys for Toddlers
Wanna keep shopping? Don't let the end of this article stop you! Keep going.
This article was originally published on