Fireball Eggnog Exists Because There Are No Rules Anymore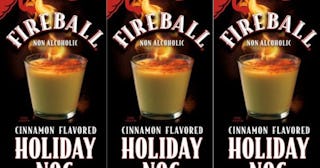 Fireball/Walmart
It seems like as good a time as any for some Fireball
It's nearing the end of September which obviously means we need to start thinking about eggnog. And when we think about eggnog, it's only fitting that we somehow fit Fireball into the equation because it's 2020 and Fireball should never be far from our thoughts. Thanks to Walmart, we'll now be able to buy actual Fireball Holiday Nog in preparation for the festive period.
Forget candy corn and costumes, according to Best Products, Fireball Holiday Nog will be exclusively available in Walmart stores by the end of September. For just $2.98, you can sip (or chug) the cinnamon-flavored nog to your heart's content. It's a smart spin on the classic holiday drink but adds in a whiskey flavor we've all been missing but never knew we needed.
It's probably worth mentioning the Fireball Holiday Nog doesn't actually contain Fireball (which feels like a missed opportunity), but you can still add the popular cinnamon whiskey to your mug to kick things up a notch.
The alcoholic beverage, which uses the tagline "tastes like heaven burns like hell," is the perfect pairing for eggnog. It's synonymous with the holidays — and so is drinking because family is stressful. Given all that's transpired this year, adding a little Fireball to your Fireball-flavored eggnog just feels right.
If you want to make sure the kids don't mistake their eggnog for your spiked number, may we suggest adding this to your Amazon cart next time you put in an order. You know, just to play it safe.
This boozy-flavored beverage will be sold only in Walmart stores during the holiday season so if you must get your hands on this cinnamon-y dream, that's where you need to shop (either online or in stores).
Fireball is a staple at tailgating before games, college parties, and, according to my husband, golf outings which is news to me, but since none of those are happening in the time of COVID, it seems only fitting that we enjoy some at home around the Christmas tree. Or while getting our Thanksgiving meal on the table. Or watching the leaves turn. Or maybe the day it becomes available at Walmart.
It's 2020 — there are no rules.
This article was originally published on