Save 40% On Amazon's Highly-Rated FlexStride Elliptical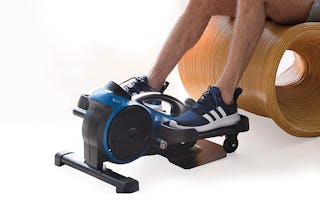 StackCommerce
There's a reason "exercise more" is one of the most common New Years' resolutions: it's really difficult to accomplish. Whether sticking with the routine or simply making time to go to the gym is what's holding you up, it's definitely time to start building up your at-home gym, starting with a portable elliptical.
The FlexStride Pedal Exerciser is a compact aerobic resistance machine you can use under your desk when working from home, while you do your makeup, or even just plopped in front of the television. It has eight resistance levels to give you just the workout you need to burn calories and build some leg and core strength.
The equipment requires absolutely no electricity, making it easy to use anywhere. A built-in handle makes it easy to take anywhere, too. You'll be able to keep an eye on your workout with a backlit LCD display that's easy to read, with a non-slip grip that keeps the equipment from rocking and scooting while you use it.
The compact elliptical has tons of super-long five-star reviews on Amazon of users praising it for what looks like a short novel. A top reviewer said, "I'd highly recommend it! You can't beat the price and it's a high-quality alternative to the ultra-expensive brands." Another customer said, "This is beyond nice to have under my desk or really anywhere because there is absolutely no electricity required. All you need is the [two] triple-A batteries included and your own foot/leg power, and you are on the path to a healthier lifestyle literally anywhere. With a portable handle built right in and a lightweight design bringing this home for a long weekend or back to the office is a one-handed job."
The FlexStride Pedal Exerciser usually goes for almost $300, but it's 40% off today, so you can accomplish your New Years' resolution for just $179.99.
Prices subject to change.
This article was originally published on