16 Fortnite Gifts Gamers Will Be All About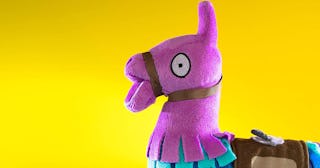 Amazon
If you're a parent to a kid or partner to a person who loves Fortnite, then you're probably looking for Fortnite gifts for the holidays or birthdays. If you have older kids or have spent any time around one, you've no doubt heard the word "Fortnite" more than a few times — you've probably even heard the video game action on your TV. The super popular video game — where you can build fortifications and battle other players — has attracted millions of players and even reached the celebrity sphere (Drake is a fan). It doesn't look like the hype is going anywhere, and there are always more things to discover and ways to play, such as a recent partnership that features Marvel characters.
Whether your kid is a beginner or can't stop talking about loot chests, loves to earn rewards in the game or perfect the dances in real life, give them something this season tied to their favorite activity. From gear to toys to bedding, here are 16 Fortnite gifts the gamer in your life will appreciate.
Best Fortnite gifts for kids and adults:
For more great ideas on gifts for kids, check out our gift guides!