The Best Games For Dogs That Keep Your Pup *Really* Entertained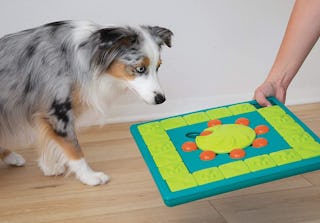 Dog interested in toy from Outward Hound
The best games for dogs have evolved from just throwing around a stick in the backyard. Puppers these days have a whole range of chew toys, pool toys, and even exercise equipment to choose from. But if you're looking to turn playtime into an opportunity for enrichment, there are a whole plethora of goodies to choose from.
You've probably noticed that your dog likes some types of toys better than others. And your pooch's preferences might have a lot to do with their biology. Ali Smith, a professional dog trainer and CEO of Rebarkable explains, "Your dog was bred for a purpose. And helping them live successfully in a home environment, we sometimes need to recognize that they need a little more. Pick toys that are going to excite your dogs natural desires. A destructive dog will like certain toys that perhaps a more nose-based hunting breed might not." Since no one knows your pup better than you do, it should be pretty simple to pick the game that best suits their personality.
Among other benefits, playtime is a great way to build on the relationship you already have with your pet. "Play is great for bonding you and your dog," advises Smith. "It can really help the two of you to get a wonderful understanding of one another and encourage your dog to listen to you consistently when it comes to training."
Above all, finding brain games and puzzles for your fur child can actually improve their behavior and make for a happier, more balanced dog. "Enrichment is wonderful to tire your dog's brain," Smith explains. "There's an old saying that 'a tired dog is a good dog,' one I've said before! But it's less about finding the end of their energy and more about finding a balance between physical stimulation, mental stimulation, and sleep. That sweet spot is where your dog will do their very best for you every day."
So whether you have a hunter, digger, or chaser, here are the best games for every type of dog.
BEST GAMES FOR DOGS
BEST BRAIN GAMES FOR DOGS
BEST PUZZLE GAMES FOR DOGS