30 Gift Ideas For College Professors That Will Get You An A+ In Gift-Giving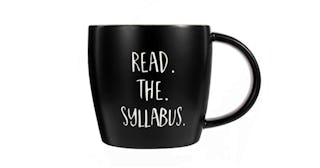 Amazon
If you're searching for the best gift ideas for college professors, we've got you covered. Educators always deserve to be celebrated, but this year especially. Professors and teachers are juggling heavy workloads, dealing with remote learning, and putting in overtime to make sure their students receive higher education. It's time to honor the professors in our lives with a thoughtful gift, because well, they really deserve it.
But what do you buy for a college professor? They probably have plenty of ballpoint pens or paperweights that students have given them over the years. So skip that idea. Literary-themed gifts or more "teacher-themed" presents can be really thoughtful, but some of the best gifts for professors don't have anything at all to do with their work. Because, like all of us, they need an escape.
We spoke to Terri Whitney, Professor of English at North Shore Community College, and she said some of her favorite presents have been self-care gifts. "Gifts that I wouldn't think to buy for myself, like a lavender pillow spray, have been some of my favorite," she explained.
Whether you're buying a present for your professor or a family member or friend who is a professor, we've got something for them on our list. Below, our best gift ideas for professors that will bump your grade from an A to an A+ in the gift-giving department.
Gifts For College Professors