31 Unique And Thoughtful Gift Ideas For Your Grandpa
by Jenn Sinrich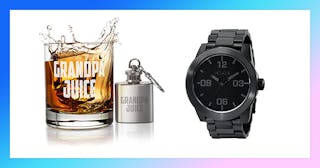 Finding the best gift for grandpas can be quite a task. Whether the grandpa for whom you're shopping during holiday season or birthday season is the one who cradled you as a baby or will soon be a grandpa to your own little baby, there's a lot of reason to celebrate him. But shopping for gifts for grandfathers isn't always easy. If there's one person in your life who says he doesn't need anything more than your own mother and father, it's grandpa. Even on Father's Day he dissuades you from doling out dollars on him!
RELATED: 100+ Quotes About Grandparents That Will Warm Your Heart And Soul
Luckily, there's no shortage of grandpa gift ideas out there for every type and interest. From Amazon and Walmart to unique gifts from Etsy — there's definitely something out there that your pop pop will love. In fact, some of the best gifts for grandpa are really simple as can be, because, at the end of the day, the only presents for grandpa that really matter are the times you spend together.
To inspire you as you shop for that special old man in your life, we're sharing some of the best gifts for grandpa in 2021.
Best Gifts for Grandpa
Sentimental Grandpa Gifts
Grandad Birthday Gifts
New Grandpa Gifts (a.k.a. Grandpa-to-Be)
Looking for more holiday inspiration? Check out our other gift guides for 2020.