Case Closed — These Are the Best Gifts for Lawyers
by Tabitha Britt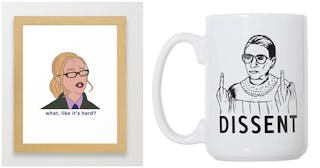 Etsy/Amazon
We've come up with a list of 28 of the best gifts for lawyers if you're on the hunt for a thoughtful and non-boring gift that's tailored for someone who's studying law or has already graduated law school. Whether you're shopping for a seasoned professional or an aspiring attorney, we're sure they won't have any objections to the gifts in this roundup.
Gifts for Law Students
Getting into law school ain't easy, and getting out is even harder. Give your favorite law student a bit of motivation by gifting them something that'll take their mind off of exams for a bit. From RBG coffee mugs to Elle Woods prints, here are 10 gifts for law students.
Gifts for New Lawyers
Graduating law school is a major feat and definitely something that's worth celebrating. Here are a few useful (and funny) gifts your lawyer is sure to love, whether their focus is on criminal, commercial, or another type of law.
Gifts for Attorneys
So, there is actually a difference between a "lawyer" and an "attorney." According to Zavodnick/Zavodnick and Lasky, a lawyer is defined as someone who's earned a law degree or Juris Doctor (JD) from a law school, whereas an attorney is someone who has a law degree, passed the bar exam, and has been admitted to practice in the U.S. Either way, we're pretty positive any attorney (or lawyer) would be happy to receive one or more of the gifts below.