Expecting Mom On Your Shopping List? She Won't Expect These Great Gifts.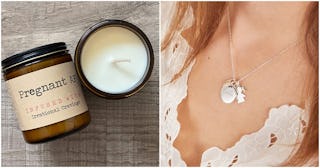 Malicious Mermaid via Etsy / Merci Maman
The best gifts for expecting moms are ones that remind her how amazing she really is (she's a baby-growing goddess, after all!). While she's undoubtedly having fun folding teeny-tiny baby clothes and nesting in the nursery, the fact is, there are things she needs, too. With pregnancy comes many discomforts; swollen feet, aching backs, and sleepless nights, to name a few. There's her sudden lack of clothing options that can accommodate her growing belly (and breasts, and butt, and everything else). And no matter how excited she is to meet her little babe, waves 0f stress acc0mpany all that anticipation.
So if there's an expecting mom in your life, show her she's loved and help her celebrate what's to come. We've for the best gifts for expecting moms right here, from Mother's Day surprises to "just because" gifts that commemorate her newest arrival. From self-care treats to sentimental necklaces, these thoughtful picks were chosen for moms, by moms.
Best Gifts For Expecting Moms
Mother's Day Gifts For Expecting Moms