The Best Passive Aggressive Gifts For People You Don't Like
by Amanda Davis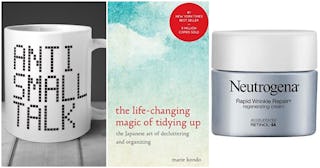 Etsy / Amazon / Amazon
Remember as a kid when you couldn't wait to grow up and be on your own? Well, did you anticipate having to buy gifts for people you despise? Nope, me either—but unfortunately the obligatory gift-giving happens sometimes. Between your in-laws, Secret Santas with snooty coworkers, and your annoyingly noisy neighbor, we rounded up a few things that would work perfectly as a gift for someone you don't like very much.
Unfortunately, we'll have to deal with jerks like these for the rest of our lives, so here are a few passive aggressive gift ideas that might make that reality suck a teeny bit less. So be polite, don't be rude (at least try a little), and this gift exchange will be quick and easy. Check out our list for the best gifts to gift people you hate. The giftee may not laugh, but you sure will!
Want more helpful gift guides? Check them out here.
This article was originally published on