Golden Girls Costumes Exist, So Happy Halloween To Fans Everywhere
by Cassandra Stone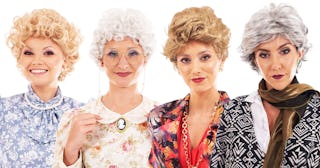 Toynk
These Golden Girls costumes belong anywhere from Shady Pines to the beaches of Miami
Whether you're more of a Sophia, Blanche, Rose or Dorothy, now you can embody your favorite Golden Girl this Halloween — because officially licensed costumes are now a thing that exists. Because sometimes we CAN have nice things.
While sure, you can throw together a realistic-looking costume with a quick Pinterest search and a trip to your local thrift store, these licensed costumes are so spot-on and affordable it would be a crime not to gather a few of your girlfriends together and pitch in for these babies. Each costume costs just under $70 and each wig is $25.
Let's start with Dorothy Zbornak, because she's this author's favorite Girl and just look at that getup. Get Dorothy's wig here.
toynk.comThe description on the site is amazing: "The queen of poise and sarcasm, Dorothy Zbornak is an iconic member of the Golden Girls cast. With her witty sense of comedy, Dorothy is easily a fan-favorite character. Now you can become just like Dorothy with this costume set!"
If Dorothy isn't your style, perhaps her mother, Sophia, is more your speed? (Here's Sophia's wig.)
"Have you ever wanted a free pass to be as ornery with your friends as you like?" the site says. "Sophia Petrillo does just that in the Golden Girls! Her age and life experiences has led her to be a loose cannon with her words and now you have the opportunity to dress like her!"
And of course, if sarcasm isn't for you then perhaps Minnesota's favorite blonde, Rose Nylund, is for you. Get her wig here.
"Rose Nylund is one of our favorite Golden Girls," the site says. "Her innocence is the source of her comedy and allows her some of the best one-liners in the series. Now you can show your love for Rose with this dress-up costume in her likeness!"
Truly, the outfits alone here are remarkable in their accuracy — but the next one is especially spot-on.
Oh Blanche. Be still our hearts in that red jumpsuit. "Blanche Devereaux is who we dream of becoming when reaching our golden years! Passionate and chasing promiscuity, you can now step into Blanche's shoes with this Golden Girls Blanche costume." Make sure to also grab her wig!
The wigs and costumes are sold separately. So is this piece de resistance, Sophia's handbag:
I MEAN. Come on. It's not truly a Sophia costume without her classic straw handbag.
These costumes are wonderful for Halloween, of course, given the timing. But they're also kind of perfect for any costume party any time of year. Or, if you're booking yourself a ride on the Golden Girls cruise, you just might be able to win their costume contest.
The show, though a comedy, also tackled serious issues like HIV/AIDS, gender discrimination, misogyny, sexual harassment, death, addiction, and so much more. It showed the true value of female friendship and why ageism is absolute garbage, tbh. What better way to honor these ladies than to embody them in every way?
This article was originally published on