Go From Zero To Guitar Hero for $29 With These Online Classes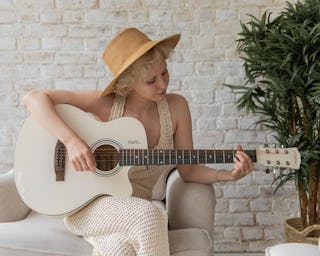 Pexels
If you got your little one a guitar for the holidays to get their crazies out, you might be inspired to do the same for yourself. Think about all the campfire singalongs, parent-kid talent shows, and party tricks you could pull off with a skill like that! Get riffing while the Ultimate Beginner to Expert Guitar Lessons Bundle is marked down 98 percent.
Online education is super convenient, but it can be a tad risky if you aren't familiar with the instructor. This bundle is taught by Dan Dresnok, a seasoned session guitarist of over 26 years. One student's five-star review sang his praises, "I like the way Dan takes the time to explain the lesson in detail. I know exactly what's going to happen before I touch a string. I can take my time and start or stop the video at any point if I need to review it. There's no rush."
That freedom to start and stop at any time is awesome while the kids are home e-learning, but even more convenient when things are back to normal. Imagine having to commit to a 30-minute guitar lesson and factoring in commute times weekly—the lessons likely wouldn't happen. This program gives you the flexibility to learn at your own busy-parent pace.
The bundle includes nine courses that cover anything from blues, jazz, and bluegrass. You'll start with beginner-level lessons in notes and chords and quickly move on to comprehensive lessons in theory and ear training. Music theory is the key to mastering your own arrangements and even writing your own songs. Once you have that theory, you'll understand how to effectively play by ear with a mastery of relative pitch.
Get those fingers callused and find your best grunge or country flannel. The Ultimate Beginner to Expert Guitar Lessons Bundle is ready to make you a killer guitar player for only $29.
Prices subject to change.
This article was originally published on