Hallmark Monopoly Is Here To Make Your Game Nights Extra Merry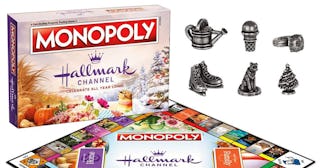 Hallmark
If you're planning a holiday game night, Hallmark Monopoly is the obvious choice
It's almost Halloween so that means it's basically the holiday season (don't @ me) and that means it's time for Hallmark Holiday Movies. Starting October 26th, you can watch all the delightfully cheesy and fun Christmas movies your little seasonal heart desires, and now, you can add a little more Hallmark to your holiday life with Hallmark Monopoly.
Oh yes. It exists — and it's breathtaking.
BEHOLD, the source of your holiday game night fun this year, and probably many years after that. Monopoly, after all, is a timeless classic — if you can get past the petty fights it will inevitably cause, that is.
Hallmark is offering it on their website for the extremely reasonable cost of $39.99. I mean, can you really put a price on this kind of fun? The spaces usually reserved for Boardwalk and Park Place are a Christmas tree farm and a holiday bakery. Stop it. Way too cute.
It's also important to note that this isn't just Hallmark Christmas-themed, though that would not upset us in the least. The game covers all four seasons of the year, so you can bust it out any day.
The "Chance" and "Community Chest" cards are replaced with "Home" and "Family" cards. Houses and hotels are "cottages" and "inns" in Hallmark Land. The game pieces are, appropriately, very whimsical and fun items including a watering can, a pair of ice skates, an engagement ring, an ice cream cone, and of course, a Christmas tree.
"Everything from the seasonal board to the collectible tokens are Hallmark-themed," Hallmark says on their site. "So whether you're buying a Christmas tree farm or a bed & breakfast, you'll experience all the thrills of the beloved board game in a Hallmark kind of way."
The paper money features their trademark doggie wearing a scarf and the railroad is actually called "When Calls the Heart Railroad" after the channel's incredibly popular series. They've honestly thought of every festive detail and we're here for it.
If Hallmark movies aren't really your jam, there are other versions of Monopoly you can get your hands on this holiday season. Who wouldn't want to play this classic game Golden Girls-style? No one, that's who.
Or maybe the Millennial version is more your speed — one of the game pieces is a hashtag. Enough said.
If you have a tween on your gift list, there's always Fortnite Monopoly. Whiny kid on a headset shouting at the TV not included.
The Hallmark version is, happily, available for order on their site starting later this week, so it will be here for pretty much the entire run of Hallmark Holiday Movie season and beyond.
This article was originally published on