People Are So Hype For Fall That Halloween Advent Calendars Are Already Here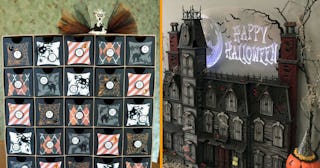 CubbyBearCrafts/Etsy and Halloweenadventhouse/Etsy
It's only August, but Halloween advent calendars are already here
We don't really know what's going on, but it seems like every year, people get more and more enthusiastic about Halloween, and they do it earlier and earlier in the year. Maybe it's because climate change is heating up the planet and ruining our lives so everyone is desperately looking forward to fall for relief from all this heat? Maybe it's "Big Halloween" brainwashing us into buying spooky stuff so Spirit stores can take over all the abandoned mall stores and live out their year-round glory? Whatever the case, Pumpkin Spice Lattes debuted in August, Halloween costumes have been on shelves all summer, and now people are buying Halloween advent calendars because we're just full-on embracing fall as the premiere season now.
RELATED: 22 Adult Advent Calendars, Because Why Should Kids Get All The Fun?
Traditionally, advent calendars are a Christmas and Hanukkah thing. These interactive calendars count down the days until the big holiday and on each day, there's usually a treat or surprise hiding behind a little door or pocket. Now, you can buy an advent calendar to count down the days to October 31st.
We blame The Nightmare Before Christmas for Christmas-itizing Halloween, but some of these Halloween advent calendars are actually pretty cool.
Most of the advent calendars are being sold on Etsy, and these are statement pieces. Look at this handcrafted Victorian-style haunted house. It appears the seller only makes and sells one or two per year and sadly, this particular advent calendar is sold out. Great inspiration to make your own or ask an artsy person to recreate it, though.
Most of these artisanal houses are handcrafted from wood and retail for over $200. Unfortunately, they're all sold out, but fear not, spooky fans — there are plenty of affordable Halloween advent calendars to go around.
This article was originally published on