Best Hamster Clothes & Costumes For Small Critters On The Catwalk (Err, Skip The "Cat")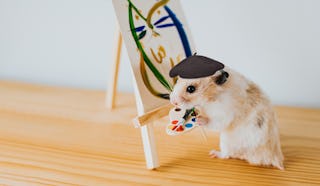 Catherine Falls Commercial/Getty Images
Hamster clothes are a thing, and if you didn't already know, it's my pleasure to bring you this wondrous news. I really wish I knew small, furry animals could wear clothes when I was a kid getting my first pet (although, it was probably for the better …). Who knew that hamster clothes would make your big-eyed, fuzzy friend look just like a Disney character?! But I'm here to help you learn from my mistake, and now, you can watch your little hamster host their first fashion show.
Before we begin, two notes: One, remember that as cute as they look, hamsters and clothes don't naturally mix. That's why they have fur, after all. In addition, hamsters need to chew CONSTANTLY to be healthy, and chewing on fibers can lead to intestinal problems. This doesn't mean you can't dress your fuzzy friend up, but it does mean that you should supervise your hamster whenever they're wearing clothes.
Two, grab a flexible measuring tape or piece of string before you hit "add to cart." Hamsters come in all shapes and sizes. A fully grown Syrain hamster and a baby Dwarf hamster are very different in size. For best fits, measure them around their middles (girth) and from neck to tail (length). After that, it's time to grab your camera and get ready for #HamstersOfInstagram fame!
Best Hamster Clothes
Best Hamster Hats
Best Hamster Costumes
Best Wearable Hamster Accessories