This Electric Hand Warmer Thaws My Icicle Hands In The Morning, And I'm Obsessed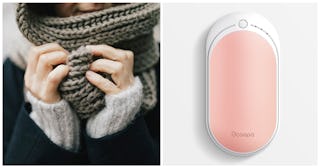 Getty Images/Ocoopa
Winter mornings can be brutal. Before turning the heat on, my house gets *really* chilly overnight, so I'll end up wearing a blanket over my hoodie as I go make coffee. That's a great fix for my upper torso (and I've got sweats and UGGs on for the rest), but it's basically impossible to wear gloves while checking my email or even making eggs. What do you do with your freezing cold hands in the dead of winter? Even if you normally work in an office, you've probably dealt with icicle fingers, and wearing gloves or mittens is…a weird flex. Before, I'd make myself a hot cup of coffee or tea and cup my hands around the mug for warmth, but after discovering this electric hand warmer that's portable and fits in my pockets, I'm never going back to shortcuts. This is the way.
The Ocoopa rechargeable hand warmer looks almost like a computer mouse, and it fits perfectly in the palm of your hands. Offering three levels of heat, you simply press the "on" switch and choose how much heat you want. As a bonus, you can use it as a power bank to charge your other devices, because if we're going to buy things, they might as well serve multiple purposes.
With over 5,000 5-star reviews, the Ocoopa hand warmer has a lot of big fans. Especially since its shape is so versatile. One customer writes that they use it as a massaging tool for their back, which is pretty genius (anyone else have a terrible quarantine back? *Raises hand*). "Better than the pictures and more useful than described. This little gadget is way more than a simple hand warmer. The uses are endless. Just use your imagination. It's a replacement for messy gels like icy hot or can be used for hot rock therapy pain relief by simulating a heated rock. I could go on and on. I have 3 herniated disks in my lower back and when the pain becomes unbearable I simply place the warmer on high power and then use my back support belt as a way to keep the little warmer in place, directly over the area in pain and I get instant relief," the review shares.
Another customer writes, "This hand warmer is amazing! My hands are constantly cold and I've tried all sorts of products to help keep them warm but nothing has worked until now. I charge the hand warmer every night with a standard USB charger and the next day, I have hours of warmth. The three temperature settings are very helpful — I use the highest setting when I'm outdoors for long periods of time and the lower settings when I'm indoors (e.g. sitting at my desk or in a cold movie theater). I've already given hand warmers as gifts to several cold-handed friends and family members and they're loving it as well."
The Ocoopa hand warmer comes in seven different colors, including a pretty light pink, aqua, and a galaxy pattern.
This article was originally published on