The Best Handheld Games For Gaming On The Go, Whether You're A Kid Or Grownup
by Kyle Schurman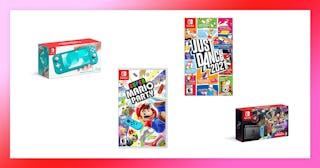 Amazon
Looking for handheld video games? They're pretty perfect if you or your kid are on-the-go, and they make it so that you don't have to be tied to a TV screen and couch. While video gaming tends to have a negative connotation among some parents, there are some benefits to playing video games — with scientific data behind them! — such as boosting creativity and constructive play, developing problem solving skills, and improving hand/eye coordination. If you appreciate what video games can do, check out our list of the best handheld games for adults and kids. Having the ability to game no matter where you are can open a whole new world of gaming.
Our list of the best game systems for kids is going to focus on the newest handheld game console, the Nintendo Switch. The Switch has a built-in screen for on-the-go gaming, or you can attach it to a TV. The controllers can stay attached to the built-in screen, or you can pop them loose and use them like regular controllers. We'll also focus on handheld gaming systems with preloaded games or that can play old games. All of them will be guaranteed fun for today's kids … even if the blocky graphics on the older ones look like something out of your childhood.
Best Nintendo Switch Handheld Video Games
Best Handheld Game Systems
Maybe video games aren't your thing. Maybe you've banned them completely at your home. No judgment here. (Your kids might end up describing this ban to a therapist in a few decades, though.) So if you're going to ban video games, you better have some other cool toys ready to go. We have multiple toy guides to help you find the perfect option for your kids.