There's A Hogwarts Tree Topper If You Want A Little Extra Magic This Christmas
by Christina Marfice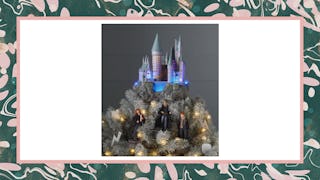 After going viral last year, this Harry Potter Hogwarts tree topper is making a comeback.
We know it's a little early to be talking about Christmas, but you'll want to act fast to avoid a yuletide emergency. The Hallmark's super-popular Harry Potter Hogwarts Tree Topper from 2019 will be back in stock in July 2020, and it could sell out by December (or sooner). But if you snag it this summer, you'll have one less thing to check off of your holiday to-do list. Trust us, you'll be glad to have one less thing on your plate as you frantically stock your online shopping cart for your kids' gifts the week before Christmas (consisting of Harry Potter gifts or games, perhaps?). Not to mention, this piece would look gorgeous displayed on a bookshelf or mantle any time of year.
For those of us raised in HP's wizarding prime, this majestic decoration is a nostalgic holiday essential. Millennial moms of a certain age grew up charmed by J.K. Rowling's descriptions of the magical Christmas decorations that adorned Hogwarts during the festive holiday seasons in every Harry Potter book. If you've always wanted to bring a little bit of that magic into your own home, it's time. Hallmark is selling some absolutely enchanting Hogwarts Christmas tree toppers, complete with interactive lights, music, and matching character ornaments, too. Star? Who even needs a star? The top of the tree is the perfect place for the Hogwarts castle and the Hogwarts castle only.
Hallmark Keepsake Hogwarts Tree Topper
But wait, there's more! Also coming back in July, Hallmark has character ornaments so you can hang with the whole wizarding gang. And here's where this collection gets really cool: If you have the Hogwarts tree topper and one or more of the keepsake ornaments, you can actually sync them together, and watch an interactive light and music show for each character on your tree. It's truly like bringing the magical decorations of Hogwarts into your own living room.
Hallmark Keepsake Harry Potter, Ron Weasley, and Hermione Granger Ornaments
If these Harry Potter Christmas decorations make your holiday more magical, check out our other mom-approved home and kitchen picks for more decor inspo!
This article was originally published on