Your Kitty Needs This Self-Heating Cat Bed
by Rachael Lubarsky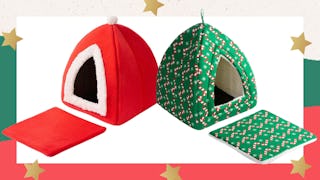 You're either a dog person or a cat person and if you're the latter, this heated cat bed should be on your favorite feline's holiday wish list this year.
Made from super cozy materials like printed flannel and an interior filling of arctic velvet (which sounds like what you would wear to a ball at the North Pole), this enclosed space will keep your cat warmed to the purrrr-fect temperature from his own body heat. Which kind of makes this pet bed the cat's pajamas.
Says one reviewer of her cat nappers and their new bed:
"All 4 of my cats love it! It's soft, cute, and seems to be pretty durable. Plus the price is unbeatable compared to what you would have paid in a pet store for the same bed."
P.S. Even if you're a rabbit person or a small dog person, this bed still works wonders.
Want more holiday inspiration? Check out our holiday decorating guide and get your home decked this year.
This article was originally published on