The Official Scary Mommy Editors' 2021 Holiday Gift Guide For Kids
by Team Scary Mommy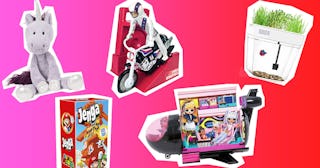 Scary Mommy
We know you've been hunting for the best toys for your kids this year. It's hard to keep up with all the L.O.L. Dolls and STEM toys and fancy bikes and Polly Pockets (hellz yeah, Polly is back, bitches!), so we've rounded up all the toys and gifts our own kids loved this year. Every gift we're recommending has been thoroughly vetted by the Scary Mommy Intern Team (aka, our children — we pay them in snacks and helping them make sure they make it to their Zoom period 3 class, and they get full family benefits, obvs).
RELATED: The Best Electric Riding Scooters For Everyone (Yes, Even You)
Behold: The Best Kids Toys, All Scary Mommy Editor-Approved.
RELATED: These Minecraft LEGO Sets Are Awesome — If You're Not A Square