Give Your House a New Look: This Home & Cleaning Design Bundle Is Just $20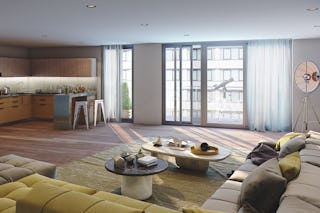 StackCommerce
You've probably spent more time in your own house this year than ever before. A booming real estate market with buyers in droves is proof of the fatigue people are feeling from their own spaces. But, rather than investing in an entirely new home, you might just need a spruce-up and redesign of your current space, and The Home Design and Cleaning Bundle can help show you how without dropping money on an interior designer.
The six-course bundle can teach you how to tidy up with natural home cleaning, fix up your existing furniture, or design an entirely new look with 3D visualizers. The design courses are taught by Jamie Cardoso, an expert in 3D lighting, rendering, and more with a high 4.2-star instructor rating. Those skills will help you visualize your new space before you drop any money on new pieces or start ripping apart your existing furniture.
If you're not very interested in replacing key pieces like your old coffee table or couch, you might find they just need a little TLC to be modern again. A Thrifty Interior Magic Design course can teach you how to look at old pieces with a fresh perspective. Refurbishing old pieces isn't only economical, it's sustainable too. An included Sustainable Living course dives deeper into how you can continue to update your space without damaging the environment or supporting companies that do.
Having an eye for pieces of furniture with a second life ahead of them is one thing, but the skills to actually flip those pieces is another. A Fix-up and Flip Furniture course can help guide you with lessons to restore tables, dressers, and other discarded or old furniture with guided video lessons.
The Home Design and Cleaning Bundle is valued at $1200, but it's 98% off today at a final price of $19.99.
Prices subject to change.
This article was originally published on