I Didn't Think I Could Afford A Decent Treadmill Until I Found The Horizon 7.0
by Karen Tietjen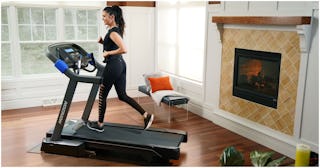 Horizon Fitness
Some people love going to the gym to work out, but just getting there can be a hassle. Even before COVID-19 shut gym doors, the idea of changing into my exercise gear, hopping into the car, driving to the gym, then working out seemed like a time-consuming impossibility. You see, I'm a mom with a toddler and I work from home (sometimes working and watching said toddler at the same time), so needless to say, time is of the essence. In general, any time I want to leave the house alone, the stars have to align, so when it comes to staying active, I need a workout I can do at home (and for me, boring fitness videos just won't cut it).
I started searching for a solution to my workout woes — more specifically, a cardio machine that I could use at home during nap times or when my husband is home to watch our tot — but I didn't want to break the bank. I also didn't want to sacrifice quality and important features that would actually motivate me to get off the couch and get my sweat on.
When I found the Horizon Fitness 7.0, I knew it would be the perfect machine for my lifestyle. It has just enough bells and whistles to enhance my workout, and at under $1000, the price point is just right.
For starters, the Horizon Fitness 7.0 is sturdy and rugged, a non-negotiable for me — after all, a flimsy treadmill won't just ruin your run, it can be dangerous. Its hand controls allow you to easily change the incline or speed so you can adjust your pace without missing a beat, and contact hand grips track your heart rate. There's even a large LCD screen that lets you view metrics like distance covered, calories burned, and heart rate at a glance, and there are built-in exercise programs, like a 5k run or hill climb, if you need a push.
But here's my favorite part, by far: You can turn the Horizon 7.0 into a high-tech machine without the exorbitant price tag.
This treadmill is designed to be compatible with tablets and smartphones, so all you have to do is open your favorite fitness app and place your device on the ledge for easy viewing. There's a built-in USB port that offers rapid charging and the treadmill is Bluetooth compatible, so you can hear your instructors clearly, and — most important of all — crank the music that gets you into your zone.
I have to be honest: When I jump on my treadmill, I'm more likely to use its tech features to binge-watch brainless reality shows instead of running workouts designed to kick my butt. But what matters most is that I'm staying active, right?
This article was originally published on