Gorgeous Kid & Toddler House Beds That Add A Little Flare To Their Space
by Jenn Sinrich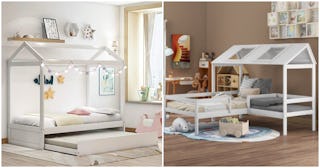 Amazon/Walmart
It's a big step to be looking for your kid's house bed for the first time. It probably feels like just yesterday you were transitioning your sleep-resisting (hello, sleep regression!) baby from the bassinet that hung out in your bedroom to the big-baby crib in her very own nursery. Suddenly, in the blink of an eye, it's time to make another huge sleep transition: from the crib to the toddler bed.
Like shopping for cribs, there is certainly no shortage of toddler beds out there in all different shapes and sizes. But one of the most trendy toddler beds out there today is what's called the "house bed." Just as its name suggests, it's designed to look sort of like a house. In short, it makes the transition from crib to big-kid bed seem a whole lot less scary.
These beds aren't only a chic addition to your home decor, but they're also incredibly practical. Most of the time they involve a bed frame that's very low to the floor so that your child doesn't A) have trouble getting in and out of it and B) doesn't fall out of it during the middle of the night. They also have very tall structures that make up the "house" part of the bed, which you can use to decorate with fabric, lights, you name it.
The possibilities are truly endless when it comes to house beds for kids and toddlers, but you have to find the right one for your little one. Here are some of the best house beds on the market that moms are loving right now.
Best Kids House Beds
Best Toddler House Beds
Best House Bed Frames
Best Twin House Beds
This article was originally published on