Add This Cool Mist Humidifier to Your Good Night's Sleep Arsenal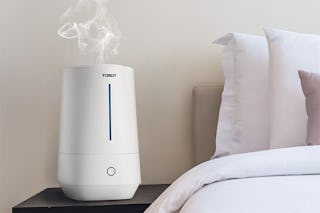 StackCommerce
We all know how important sleep is, for both our health and our sanity. Unfortunately, moms just don't seem to get enough. Whether we're in the newborn phase and up all night with a baby, or keeping up with midnight visitors, thanks to the toddlers or big kids' nightmares, getting a full eight hours of sleep is nearly impossible when you're a busy mom.
Since we know we have plenty of sleep obstacles built in as a mama, it's important to turn our bedroom into a zen oasis. That usually means making sure we have the plushest pillows, luxurious bedding, and a luxurious sleep mask–but what about the air we're breathing? If you want to make sure you have the ideal atmosphere for a restful night sleep, a humidifier can help. The TOSOT Ultrasonic Cool Mist Humidifier is Amazon's Choice, scoring an impressive 4.5 out of 5 stars with users, and provides clean and comfortable air as you get those much needed Zs. And, right now, this beloved humidifier is 20% off and $39.99 for a limited time.
Humidifiers always sound like a great idea, until you have to deal with a bottom-fill tank that takes forever to fill and often spills. Since you don't need any extra messes to clean up, the TOSOT Ultrasonic Cool Mist Humidifier is one step ahead of traditional humidifiers. It's equipped with a top-fill design that saves you time and prevents those annoying spills. And, unlike its competition, it comes with a simple interface with just one button.
Choose between three different mist output levels: high, medium, and low. You'll enjoy hours of clean air, and thanks to the 360° mist nozzle, the whole room will be covered in humidified air (so your partner will enjoy the benefits, too!). An aromatherapy option also helps you set the relaxing sleep mood, letting you relax as you breathe in your favorite fragrance. It's super quiet, with a peak sound level of 28 decibels, you sleep easy knowing the TOSOT Ultrasonic Cool Mist Humidifier will not be waking you up (though we can't say the same for your kiddos).
Sleep easy with super clean air thanks to the TOSOT Ultrasonic Cool Mist Humidifier. It's available for just $39.99 for a limited time.
Prices subject to change.
This article was originally published on