People, You Don't Need To Buy Expensive Mascara. Here's Proof.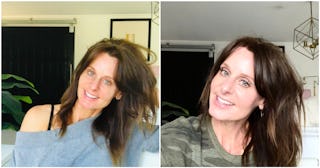 Katie Smith/Scary Mommy
As a 42-year-old woman, I refuse to leave my house without my mascara. It just makes me feel better, more alive. I've been wearing it every day since I was 13, and I've tried so many different brands I've lost count.
I believe in investing in skincare, but when it comes to mascara, you don't have to spend a ton of money — believe me, I've dropped almost $40 on a tube of mascara and regretted it (I could have used that towards serums or groceries), and discovered brands that you can pick up at your local drug or grocery store that are just as good, and a few that are better. Yes, better.
We love full, lush lashes and pay lots of money on falsies or extensions, but I'm here to tell you I tried 5 brands of mascara in 5 days that were $10 or under, and I can't wait to share the amazing results. The picture of me on the left is me without a stitch of makeup. The one on the right, I am only wearing the brand of mascara I mention, and some light gold shadow– that's it. I wanted to highlight the lashes with the mascara only.
I had my doubts about this mascara. It's by Essence at $5, and the tube doesn't come with any primer — something I've been wearing on my lashes for years to give them an extra plump and help the mascara glide on smoothly. But holy cow, I love this shit. Like, really really love.
It went on so smooth and dark. It really lengthened my lashes and only took two coats. I have sensitive eyes and can only use certain brands, and it delivered. That night when I took off my makeup, my lashes looked just as fresh as they had after applying — no flaking or running. It claims to give you the appearance of false lashes and it delivers on that promise.
I've been using Loreal Telescopic every day since I read this post. I love the narrow brush as it allows me to cover some of my smaller lashes. While it's still very reasonable, I feel I need to use primer with it to get the maximum impact. It lengthens, doesn't clump, lasts all day, and washes off really nice at night, which is a huge plus.
This mascara comes with primer, and definitely does a great job lengthening. It doesn't clump and is long-lasting like the others. I love that the primer and mascara share the same tube. The brush is larger and a bit curved, which works well to get those lashes on the edge of your eyes. If you're going for a more subtle look, this mascara does the job.
Another winner in my book, and a cult favorite. This mascara is under $6 and goes on like a dream. The brush was curved and on the larger side, which holds more product and saves time since you don't have to apply as many coats. However, a tip my sister gave me when dealing with bigger mascara brushes that helps a ton: put the tube of mascara in your bra or hold it in your hand for a few minutes. The heat softens the mascara and it glides on like a dream, without clumps. Do I like this mascara as much as #1 or #2? No. But I still feel like it's a damn steal.
I was so pleasantly surprised by this one since I have not worn Wet n Wild products in over 20 years. This mascara was around $5 and claims to make your lashes 10 times fuller. There was no priming involved, and the brush has a unique shape I've never used before — it's skinny at the top and gets wider at the bottom. It definitely lengthened my lashes, and made my eyes pop, but certainly didn't make them 10x fuller. It costs less than a latte though, and for that price, it's certainly a winner. Still delivers more oomph than many of the high-end, luxe brands.
I liked all of these mascaras, but I do have a new favorite now — the Essence Lash Princess, hands down. I've honestly never used a mascara that plumped my lashes like this. Plus, they don't look clumped and spidery. And for under $5, it's a no-brainer. I'm stocking up! This product is basically a national treasure.
We all want to look and feel our best without breaking the bank. I've had my makeup professionally done, I've worn false eyelashes for special events, and I've dropped a ton of cash on mascara, because highlighting our lashes goes a long way. Those days are over though. I found 5 great, silky mascaras that gives the illusion you I spend big bucks on my lashes for under $10.
This article was originally published on