23 Japanese-Inspired Gifts For Your Inner Shinnichi (Because We Can't Travel Internationally)
by Emily Popp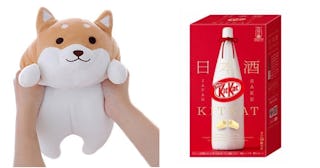 Amazon
You may think that in order to find the best Japanese gifts you have to book a flight to Tokyo, but we've found a much less expensive way to shop for the coolest presents that will delight your inner "shinnichi" (that's Japanese for Japanophile). And since we can't travel internationally these days (due to you know, the whole global pandemic situation), products that remind us of our favorite destinations are all the more comforting.
I've been lucky enough to travel to Japan many times because my brother lives in Osaka, Japan with his wife and their newborn son. And while the country has so much to offer (some of the best food on the planet, the gorgeous cherry blossom season, etc.), one of my favorite parts of visiting Japan is the incredible shopping. I've dropped a lot of yen on shopping sprees there and scored some of the coolest, most unique finds.
Japan has a very big gifting culture, and so I called up my brother, Alexander, and his wife, Chiyo (who is Japanese and grew up in Kyoto), for some direct insight. "Presentation is very important in Japan," they explained. "It's not necessarily just about the things inside the box. It's considered polite to open a present slowly and carefully because of all the care that went into wrapping it."
Below, we've pulled together some of the best Japanese gift ideas that will make a perfect present for anyone on your list.
Cool Japanese Gifts
Japanese Gifts for Her
These are by no means, exclusively for women, but since some of you may be searching, we've compiled a list of Japanese-themed gifts perfect for your female partner, friend, or family member (or, honestly, just anyone).
Check out more of our gift guides as you do your holiday shopping this year!