The Best Play Makeup Sets And Toys For Kids Who Are Too Young For The Real Thing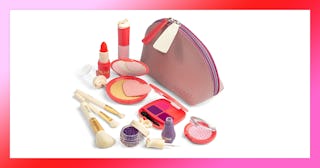 Amazon
Kids makeup kits and makeup toys (the latter, if you're not into lipstick smears all over the place, even if they are non-toxic) are a fun way for little ones to mimic their parents. After all, that's how my own child became interested in the stuff. Every morning, I do my makeup, and even though it's been optional — especially throughout 2020 — it's always been part of my routine. In trying to strive for normalcy, I kept everything the same as it was before the health crisis. It's not much — normally just a little foundation under my eyes and some mascara. But, it's a ritual my 3-year-old daughter caught onto.
Eventually, she was curious about her own makeup. Namely, why doesn't she have any of her own? I told her (as I'll tell all women) it's something she doesn't need. But, I'm not going to pretend the act of applying makeup isn't at least a little bit fun. If it helps boost confidence, or it makes us feel like a different person for a few hours (their favorite princess Disney cartoon character, perhaps?), then what's the harm?
Of course, I think she's a little too young for actual makeup. And, that's why her "kit" consists of one Minnie Mouse chapstick. Still, she has fun every morning applying it, even though she's aware it doesn't do much. (In her own words, "I look the same!") I have no problem buying her play makeup in the future and have been on the lookout for the best kids makeup for some time. Remember, it's about fun, not appearances.
Expert Tips On Kids Makeup
But, when it comes to introducing your little ones to makeup, what do experts have to say? Christina Milano, Co-Founder and lead aesthetician at Mobile Meraki can relate and shares a few great points. "I have so many kids in my life and most of them LOVE makeup!" she says. "I always avoid conventional makeup brands and lean towards clean beauty." She adds that setting boundaries is also important if there's a specific time and place you'll allow your kiddo to dress up their face. "Have your own rules with them and be clear on what is okay to wear for playtime/dress up or to wear out of the house," she suggests. For instance, in her experience, "I started wearing makeup at 10 years old, but my mom said only pink and natural tone eyeshadow colors, lip gloss, mascara, and concealer (because I started to have acne at 10 years old)."
Milano adds that your child's first lessons in makeup are also great times to start good hygiene habits. "Remind them to wash their face to take the makeup off!" she says, and suggests using natural, gentle cleansers.
Her final point is to show youngsters that applying makeup provides an opportunity to tap into their artistic side. "Also, remind them that makeup is fun and can be used in creative ways," she says. "Sometimes having all these makeup tutorials on Instagram or Youtube can be helpful, but can give us a mental block on being creative with our own makeup looks."
With all that said, if your child is interested in playing dress-up or make-believe with makeup, read on. Here are eight of the best kids makeup kits and sets online — aka, our favorite "you're-too-young-for-makeup" makeup that's just for play.
Best Kids Makeup Kits
Best Pretend Makeup Toys
This article was originally published on