Toy Shopping Carts That Encourage Your Kid To Pull Their Own Weight With Groceries (JK)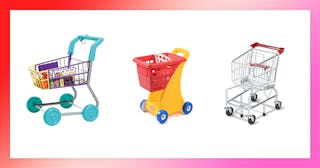 Amazon
Toy shopping carts might seem like an unusual (and even boring) choice for playtime. When we think of shopping carts, we think of a trip to the grocery store, and no thank you. But a child's imagination is one of the most fascinating things to witness from a parent's perspective. They can make the most mundane activities for adults feel like an exciting adventure. Whether it being playing with garbage trucks, talking on the phone, telling "funny" jokes, and yes, even grocery shopping. Young minds love to mimic what they see adults do in their day-to-day lives; so something as boring as wandering down crowded grocery aisles is the perfect playtime activity for youngsters. And it's no secret that kids grocery carts are such a popular playtime staple. Remember grabbing a mini cart at the grocery store when you were a kid? The excitement!
So why are toy shopping carts important to have in the playroom? Well, allowing children to mimic our everyday routines, such as grocery shopping, can help promote independence and responsibility. For example, if they draft up their own pretend grocery lists and carefully select which food items to put in their carts, this helps build their decision making and planning skills. They feel like they're putting in "real work" since what goes into our real shopping carts are usually a result of our kid's decisions. Plus pushing a shopping cart and picking up the food items is a great way to build their motor skills. It's also a great accessory to have if your kid has their own play kitchen.
If your grocery stores don't offer their own carts for kids, then it's a good idea to get a toy shopping cart for the playroom (it'll also save you money on the grocery bill, too). There's a wide variety in the types of carts available for you to choose, ranging from the classics we remember playing with to more some realistic versions you'd find at an actual store. But don't worry, we rounded up the 9 of the most popular kids shopping carts so you don't have to spend hours searching!
Best Kids' Shopping Carts
This article was originally published on