Say "See Ya" To Shaving & Waxing With This IPL Laser Hair Removal Handset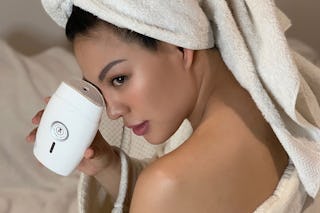 StackCommerce
You've probably seen ads for at-home laser hair removal products and wondered if they're right for you. Are they worth it? Do they even work? Are you about to waste money on yet another thing that promises to make life easier, but doesn't deliver?
Yes, yes, no.
Let this discount on the IPL Laser Hair Removal Handset from Posh Skin Co. be a sign because you can save well over 50% off, and finally make the leap to try this product. Make this laser hair removal handset yours for only $99.99.
You'll be saving hundreds of dollars in the long run, particularly if you have regular waxing appointments at the salon. Even shaving can get costly, considering how often you have to buy new razors and shaving cream. Plus, pink tax, anyone? No, thank you.
This handset works as intense pulsed light is absorbed by the melanin in your hair. It then turns the light into heat and destroys the hair at the root. After several treatments, once the hair follicle is destroyed, hair grows back far less frequently. When it does grow back, it grows back so fine that it's almost undetectable. Designed for multiple skin types, including sensitive skin, this IPL handset is a lifesaver!
Please note that IPL is not the same as laser hair removal, which features a different type of light. Yet, IPL hair removal is still effective, safe, easy to do at home, and very affordable. A typical treatment plan involves using the IPL handset once a week for 12 weeks, and then once a month after the initial 12 weeks have concluded. Hair reduction is typically seen after 3 to 4 treatments. Before use, prep skin by shaving the area (don't wax or pluck as it will render the IPL treatment far less effective).
Life is so hectic–WFH, kids, Zoom meetings, and Zoom school. It's enough to make you want to scream. Why not alleviate at least one burden? No more shaving cuts and nicks. No more painful and messy waxing. Get the IPL Laser Hair Removal Handset from Posh Skin Co for $99.99 and treat yourself to smoother skin.
Prices subject to change.
This article was originally published on