Hurry! Before The Ulta Sale Is Over, Grab These 50% OFF Daily Deals!
by Rachael Lubarsky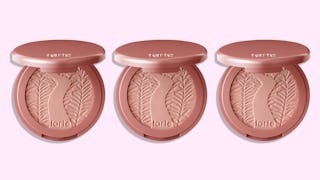 We've talked about the Ulta's 21 Days of Beauty Sale before, but an amazing cycle of daily deals really warrants more coverage. Before the magic ends on September 21st, scoop up these last remaining beauty items – hell, grab 2 or 3, Mama!
September 13
Are you blushing or did you recently discover the amazing fade-free, flawless finish of the cult classic Amazonian Clay 12 Hour Blush from Tarte? Made with Amazonian Clay to minimize oil in and around pores to balance skin while also hydrating the skin naturally. Wow, other blushes need to step up their game. Says one glowing reviewer, ""My absolute OG holy grail for blush. Nothing beats the staying power of this. Exposed is my favorite shade. Tarte got this formula very, very right."
50% OFF (usually $29)
September 14
If a foundation, a moisturizer, and a sunscreen had a threesome, this is what would fall out of the sheets the next morning. It's made with Proprietary 3D Skin Flex Technology which provides flexible pure color pigments that float over lines and wrinkles without creasing or cracking. Says one reviewer, "I don't like the feeling of wearing a bunch of heavy foundation and this product is lightweight but still gives me all the coverage I need while still looking very natural."
50% OFF (usually $39.50)
September 15
Toners help refine and pH balance your skin after cleansing, and this one is gentle but effective — which is what you want in a toner (and maybe toilet paper). One radiant user says, "I've been using this for months now and it's truly have gotten rid of my dark spots and doesn't leave skin drying after use like other toners do. Best toner so far!!"
50% OFF (usually $18)
September 16
If Oprah is endorsing something, we've gotta try it. Winner of the Oprah Magazine Beauty O-ward, this super-concentrated serum claims to visibly reduce lines and deep stubborn wrinkles in just 7 days. Sign us up. Says one plumped customer, "A product that really does what it claims! I have a deep set wrinkle across my forehead.. which has always made me feel self-conscious!! After using this.. what a difference it has made! I've actually had friends ask me if I had a little work done."
50% OFF (usually $89)
September 17
Every heard of peptides? They're chains of amino acids that are the building blocks of proteins in the skin, and they help promote collagen production (that's the stuff that keeps your skin young and taut). And, this serum is loaded with 'em. Says one bright-eyed user, "I've tried many eye creams..and this serum is the best I have ever used. Within a week my eyes look brighter and less tired. I have purple bags under my eyes and they are way less noticeable now."
50% OFF (usually $40)
September 18
This Ulta-exclusive overnight cream mask contains sodium hyaluronate — the which is a powerhouse for replenishing moisture and giving the look of fuller looking skin — along with other natural ingredients to achieve softer, smoother more luminous looking skin. Says one supple customer, "I've truly never experienced a product this thick and creamy – that sinks into the skin as much as this did. I'm truly blown away by it actually. "
50% OFF (usually $60)
September 19
Like The Avengers, these products are stronger together! This four-piece set of Origins faves joins forces to create your most gorgeous, fresh and vibrant face yet. The set includes a mint-infused face wash, AHA night resurfacing cream, salicylic acid spot remover, and a caffeine-infused eye cream.
50% OFF (usually $29.50)
September 20
We're always on the lookout for concealers that really work (#nosleep) and this cult classic from It Cosmetics makes it look like we had 8 hours of uninterrupted sleep, when we really got 4 and a half maybe. What's so great about it? It's highly pigmented and full coverage so it covers everything without creasing or cracking. Here's a tip on usage from one well-rested looking reviewer, "Awesome coverage, but product is thick, so you gotta use a light hand and the tiniest bit of it. Honestly, a minuscule dot covers both my under-eyes. I find it best to apply with my ring finger: first I dot it on and then blend with gentle tapping motions. I tried using several setting powders on top, but all they did was settle in my lines, so now I don't set it and it still stays put."
50% OFF (usually $26)
September 21
What's the secret to power brows that look full without being bushy? Well you can bodysnatch Cara Delevingne or you can get an eyebrow pencil that draws realistic hair-like lines into your own brows. Fill in areas you might have accidentally tweezed away during the '90's in a plethora of color options. Says one well en-browed user, "I have tried many others but this one is by far my favorite!!! It's the only brow pencil that I have found to last all day, looks great and if applied correctly looks very natural."
50% OFF (usually $24)
Our mom experts only recommend picks they really love. We may earn a commission on purchases made through links from our site, but if we love it, we know you'll love it. And we Scary Mommies gotta stick together.
This article was originally published on