LEGO Is Developing Audio Building Guides For Visually Impaired Kids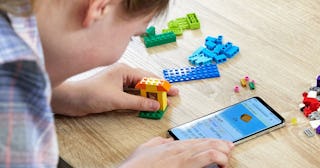 Lego
LEGO is taking big steps to be more inclusive for all kids who want to build
Matthew Shifrin was born blind. He also loved to play with LEGO sets, which presented a challenge, since the instructions for the sets have historically been written with pictures. For a visually impaired builder, the instructions were basically useless. Shifrin was able to continue to foster his love of LEGO building because a family friend would write out instructions for him that could be converted to Braille. Now a 22-year-old entrepreneur, Shifrin wants to make LEGOs more accessible to more kids.
So he teamed up with LEGO, and together, they've started a project to create Braille and audio instructions for all their building sets. The goal is to have instructions in writing, Braille, and audio for every building set and in multiple languages, Fenella Blaize Charity, Lego's creative director, explains in a press release.
This comes just months after LEGO debuted its first ever Braille bricks, aimed at helping more visually impaired kids use the bricks to build while learning to read Braille. But those bricks were geared more toward educating kids to read, while Shifrin's project aims to make LEGO's iconic sets accessible to all kids.
Shifrin explains how the idea came about. "I had a friend, Lilya, who would write down all the building steps for me so that I could upload them into a system that allowed me to read the building steps on a Braille reader through my fingers. She learned Braille to engage with me and support my LEGO passion, and then spent countless hours translating LEGO instructions into Braille."
It was Lilya passing away in 2017 that inspired Shifrin to use her brilliant method of helping him build with LEGO bricks to come up with a way to help other blind children do the same.
"This is extremely important for blind children because there aren't a lot of places where we can say, 'Look Mom and Dad! I built this on my own… I did this'" says Shifrin. "For blind children, we don't have access to what sighted kids are used to. LEGO bricks enable us to learn about our environment, to see the world. It is so important because blind kids get left out of a lot of social stuff, especially in elementary school. But LEGO building is one of the things we can do."
Currently, the audio project is in a pilot phase. There are four building sets available now through Dec. 31, and LEGO encourages people to try them out and submit feedback via a site for the project. The sets range in price from $9.99 to $29.99 and can be purchased wherever LEGO bricks are sold. Instructions for the sets can be accessed online, either in Braille, with a screen reader, or from an audio recording.
The sets that are currently available include a basics set that comes with instructions for building a house, train, piano, and dinosaur.
There's also Emma's Art Studio, which includes two artist characters, a cat, a studio, craft supplies, and an art shop.
One set is straight out of the Lego Movie 2: Emmet and Benny's workshop where they make sure their spaceship and escape buggy are in top shape and ready for exploring the universe.
And finally, there's the LEGO City Sky Patrol Police Drone Chase set, which features a police helicopter, spinning rotor, searchlight and firing net shooter.
Shifrin hopes the pilot project will be so successful he can keep working with the company to produce more and more resources to help all kinds of kids use LEGOs. But for now, he just wants his instructions to spread.
"I would like to get my instructions out to the blind community," he shares. "I would like every blind person to be able to download the instructions, buy a set, have a sighted person sort the pieces, and feel on par with a sighted builder. I want every blind person to feel that the once impossible is now possible; that he or she can now build a miniature LEGO world."
This article was originally published on