Give Your Skin Some TLC With This Light Therapy Device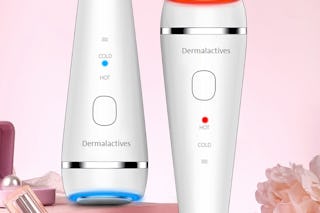 StackCommerce
Since most of us moms barely have time to take a shower, our skin could certainly use a little TLC. Unfortunately, running to the spa for treatments all the time can really put a dent in your wallet. What if there was a device that you could continuously use to improve your skin, for just a one-time price? Right now the New Age 2.0 LED Light Therapy Device is ready to give your skin the benefits it truly deserves, for 81% off its usual MSRP for just $74.99 for a limited time.
From UV light to the toxins in the air that we encounter on a daily basis, our skin suffers from the second we step outside. And, since it's our largest organ, it's important to take good care of it. Everyone can benefit from the power of LED light therapy. Red light therapy stimulates cellular activity and helps smooth out wrinkles and creases throughout your neck, which is typically one of the first places to show signs of aging. Then the blue light therapy has been known to disinfect your skin from the inside out.
The New Age 2.0 LED Light Therapy Device also embraces thermal therapy, which helps open your pores so that your skin absorbs the maximum amount of those aforementioned skincare products. Then the sonic vibrations help increase blood flow and muscle activation, while cryotherapy technology helps tighten skin and shrink pores to improve skin texture and firmness. All of these elements together give your skin an amazing result, while remaining safe, painless, and completely noninvasive. Just add serums and creams as recommended and you'll be saying bye-bye to fine lines and pores in no time.
Help your skin out with the multitasking New Age 2.0 LED Light Therapy Device. It's available for a limited time for just $74.99.
Prices subject to change.
This article was originally published on