This Overnight Lip Mask Is My Secret For Baby Soft Lips — Especially When It's Dry AF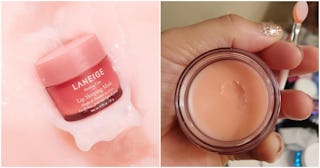 @laneige_us via Instagram/Tabitha A. via Amazon
'Tis the season for dry, flaky skin. For me, the frigid New England winter weather is especially punishing on my lips, which are often exposed to the elements. The cold doesn't just chill you inside and out, but paired with a whipping wind (*shiver*), and it'll suck the moisture right out of anything it touches. Sometimes it seems that no matter how many layers (and layers, and layers) of chapstick I swipe on, the delicate skin on my lips still feels raw, rough, and parched. That is, until I incorporated the Laneige Lip Sleeping Mask into my evening skincare routine and discovered the beauty must-have I've been missing all along.
I actually received this as a gift from my best friend because she loved it so much, and it certainly lived up to the hype. This quenching balm feels rich and starts soothing chapped lips the second you apply it. (For the record, this is not the kind of mask you rinse off.) The magic of this stuff is that it lasts for hours without re-applying, and if you put it on before bed, your lips will still feel hydrated by the time you wake up. As a bonus, they'll also look and feel softer and plumper, and the cherry (berry?) on top is its sweet, fruity scent and slightly pink sheen.
So, what secret ingredients are concocted together in this little glass jar? (Which comes with a rubber-tipped applicator, and since you only need a tiny bit, it lasts forever.) The Laneige lip mask is infused with Moisture Wrap Technology (cue the "oohs and ahhs") and includes hyaluronic acid and minerals that shield lips and seal in hydration. It makes sense if you think about it: You apply masks to your face, so doesn't the sensitive skin on your lips deserve some TLC, too?
Given that this lip mask has an average 4.6-star rating with over 1,600 Amazon reviews, it's safe to say that I'm far from being the only Laneige fan. "Ok, this stuff is amazing," says one buyer." I was skeptical but wanted to try it…. my lips get really dry and chapped and I have a tendency to pick at them and make them worse. I've tried a million different lip balms. This stuff wins hands down. Plus it's a big container and it won't be running out any time soon!"
Another raves, "This lip mask is AMAZING!!! It lasts for hours during the night – it's like nothing I've ever used. I have super dry lips (I carry lip balm in my bra 24/7!), and this is the only product I've ever used where I don't wake up with my lips screaming for moisture."
When the seasons change, you switch up your skincare routine to accommodate the harsher weather, and that should include your lip care, as well. The Laneige Lip Mask saved my lips this winter, but TBH, this stuff deserves a spot on the beauty shelf year-round.
This article was originally published on