Lupita Nyong'o Wrote A Children's Book For Girls Of Color And It's Gorgeous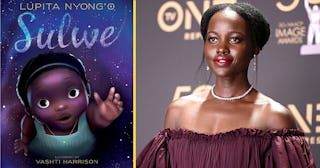 Amazon and Rich Fury/Getty
Lupita Nyong'o wrote a children's book that's not only beautifully illustrated, but will let girls of color see themselves
Representation is so important for kids, and every kid in the world deserves to see themselves in all the media they consume, from TV shows to movies to picture books. Lupita Nyong'o is helping to make that true for more kids of color with her new children's book, Sulwe.
Sulwe means star in Nyong'o's native language, Luo, and along with being absolutely beautifully illustrated, the book sends a powerful message for kids. It follows a little girl named Sulwe who takes a trip into the stars to discover the beauty in her own uniqueness.
"Sulwe has skin the color of midnight," the book's summary reads. "She is darker than everyone in her family. She is darker than anyone in her school. Sulwe just wants to be beautiful and bright, like her mother and sister. Then a magical journey in the night sky opens her eyes and changes everything."
For Nyong'o, this book represents a lifelong journey to see more of herself in children's literature, something she didn't get a lot of when she was young. On Instagram, she shared a photo of herself at five years old, along with a touching caption about what writing Sulwe means to her.
"This is 5-year-old me. I reflected on this little girl's feelings and fantasies when I decided to write my children's book, #Sulwe. With this book, I wanted to hold up a mirror for her," Nyong'o wrote. "Here's why: As a little girl reading, I had all of these windows into the lives of people who looked nothing like me, chances to look into their worlds, but I didn't have any mirrors. While windows help us develop empathy and an understanding of the wider world, mirrors help us develop our sense of self, and our understanding of our own world. They ground us in our body and our experiences."
She continued, "#Sulwe holds up a mirror for dark-skinned children especially, to see themselves reflected immediately, and it is a window for all the others to cherish peering into."
As for why a book like Sulwe is so important today, Nyong'o had this to say: "Colorism, society's preference for lighter skin, is alive and well. It's not just a prejudice reserved for places with a largely white population. Throughout the world, even in Kenya, even today, there is a popular sentiment that lighter is brighter. I imagined what it would have been like for this little girl to turn the pages of her picture books and see more dark skin in a beautiful light. This book is my dream come true for kids like her today."
Sulwe is available for pre-order now, and comes out Oct. 15.
Although we only recommend picks we really love, we may earn a commission on purchases made through links from our site.
This article was originally published on