Maternity Photoshoot Ideas For Gorgeous Photos Everyone Will Fall In Love With
by Megan McCarty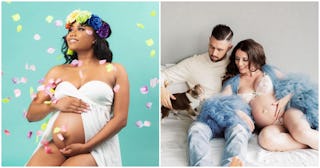 MEWeddings/Chamber Photography/Kylee Yee Photography
Hey, pregnant mommas! Depending on what trimester you're in, you might want to do a maternity photoshoot. Whether it's for family, friends, or for yourself, there's something really special about capturing your baby bump before Baby arrives. Pregnancy is a beautiful (fine, also sometimes really uncomfortable and frustrating and tear-inducing), limited time – especially the precious weeks between when your belly pops and you aren't feeling like a balloon about to burst – so you're going to want to capture it. And you can add whatever you want to the photos themselves after they've been developed, like cute family quotes or information about when Baby is due.
When it comes to taking maternity photos, the options are nearly endless. Casual or posed, props or no props, wholesome or sexy (yes, sexy!), studio or outdoors. Maternity photos aren't all about the bump, just mostly about the bump, so you can include family members or pets too. If you want to go full-blown Beyoncé, do it. If you're more comfortable with a causal in-home session, do that. Whichever route you choose, make sure your maternity photoshoot reflects your personality – wild and fun, thoughtful and introverted, family-focused and excited.
Try to schedule your photo shoot sometime between 29 and 35 weeks. You'll want your bump to be properly popped, but sometime before you can't see your ankles anymore. That way, you'll feel your best. Scroll on for a few of the best maternity photoshoot ideas out there, and to shop the outfits and props you'll need to make them frame-worthy.
The Best Maternity Photoshoot Ideas
1. Include your four-legged babies.
Don't forget about your first baby! Dogs and cats make everything better, including maternity photos. You owe them a little time in the spotlight now, considering they're going to have to take a back seat attention-wise once baby arrives. For a similar lingerie set – ooh la la! – nab this bra and matching undies from Victoria's Secret.
Check out more maternity photo ideas by Michelle Elaine here!
Get yourself a simple and lacy bra, like this one from Victoria's Secret.
2. Big balloons make for an easy, fun prop.
It is time to celebrate, after all! A bouquet of balloons will solve the "what do I do with my hands?" question while being photographed. If you're the matchy-matchy type, wear a coordinating flower crown and bump-showing dress. This balloon set, with 100 balloons and 65 yards of curling ribbon, will take you from maternity photoshoot to baby shower to a first birthday party, easy. Just make sure someone else is in charge of blowing them up.
3. Keep it simple.
A simple, stunning studio maternity shoot like this keeps the attention on your bump – and maybe a cool hairstyle, too.
Check out more maternity photo ideas from Kinda Arzon here!
https://www.instagram.com/p/B7-H6LrHK01/
Try this long-sleeved bodysuit to copy the look above:
4. Use signs.
You can make this fun and cutesy, either using a sign that literally says "baby" (we have something similar you can purchase below), or a sign that lets you write your own message.
5. Capture a close-up of your bump.
You won't have that belly forever – we promise! – so be sure to get a close-up shot of that beautiful belly during your maternity photoshoot. How about showing it off with a long floral dress? Look for one with a waist tie that will define the belly now, and can be removed for a forgiving postpartum look too.
We love this floral maxi dress from Amazon:
6. Go full Beyoncé.
Nobody can be Beyoncé except Beyoncé, but we can all steal a little inspiration from her memorable floral maternity photoshoot. If you're feeling diva-esque, accessorize your maternity photo shoot with flower petals (like the ones below) and a flower crown to emulate your best Beyoncé.
Check out more maternity photoshoot ideas by Chamber Photography here!
Get yourself some rose petals here:
7. Feature what's in bloom.
The only thing that glows just as much as a pregnant momma is a sunflower field. If you happen to be poppin' while they're in bloom, take advantage of these big beauties! Bonus: you'll be reminded of this precious, ouch-my-back-hurts time of your life every time you drive past a sunflower field. Keep your wardrobe simple, like this stunning white gown.
We love this simple one from Amazon:
8. Wear a flower crown
Flower crowns aren't just for Coachella or Carole Baskin. They make for sweet maternity shoot accessories, too.
Check out SHOOTT Photography to book a session in your city and for more maternity shoot ideas!
Get a similar flower crown from Amazon:
9. Capture the small moments.
Get an up-close shot of your belly — it's easy, it's sweet, and you have the excuse to by a new top or sweater. We love something simple like this dark blue sweater with speckles (similar to the photo above).
10. Show off your new nursery.
It won't be long before there's a fussy baby and full diaper pail in your nursery, so be sure to capture it before the chaos.
11. Embrace sexy.
Of course pregnancy is sexy! Hellooo, remember how you got here in the first place? Jenna Dewan could look sexy sneezing, but she's especially glowing in this lacy linyage number, captured by Elizabeth Messina.
This article was originally published on