The Best Military Gifts To Honor Veterans & Active Duty Members For Their Service
by Laura Hennigan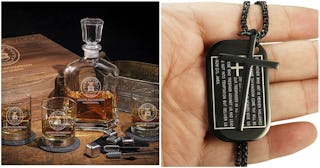 In anticipation of a more "normal" 4th of July — the kind that's celebrated with family barbecues and flickering sparklers — it's the perfect time to start shopping for the best military gifts that show appreciation to our dedicated service members. Whether you're looking for a unique present for someone on active duty, a gesture of thanks for a veteran, or a going away gift for a military deployment, there are gifts for every occasion and every kind of patriot.
Related: These 305+ Random, Fun, Interesting Facts About Legit Everything Will Shock You
The recipient may get a chuckle from military humor or might be a bit more serious, but either way, there are a plethora of military-themed gifts that range from functional to sentimental. In any case, it truly is the thought that counts, and service members are always grateful for acknowledgment and tokens of thanks. We've provided a round-up of the best gift items at a variety of price points, so you can surprise a vet or service member who undoubtingly deserves it.
Best Military Gifts
Best Gifts for Veterans
Best Army Gifts
Best Military Going Away Gifts
Best Gifts For Military Men & Women
Best Unique Military Gifts
Unique Military Gifts