I Never Pay For Starbucks Anymore, Thanks To This Little Coffee Gadget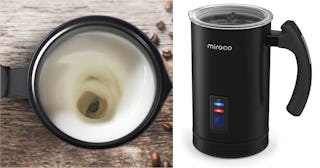 Amazon
I haven't stepped foot inside a coffee shop since 2019, and that's partly due to the global pandemic, and also because I've tried to mostly cut lattes out of my budget. But I do miss the frothiness of a barista-made drink, and it seems like, no matter how much fancy, expensive coffee I buy, I can never make a cup of joe up to par with the stuff I pay $3 for. Life is unfair, y'know?
And then I realized, it's not the coffee itself that makes the drink taste better, per se — it's the espresso machine, technique, and steamed milk. Since I can't afford an espresso machine (and nor do I have the space for it), I looked for a really good frother/steamer online to solve this problem. I ended up going with Miroco's stainless steel automatic foam maker, which also steams milk. Reader, this purchase has changed my life. No hyperboles! Not only is it small and easy to tuck away when I'm not using it, but it's super quiet, and all I need to do is press a button, walk away to go brew my coffee, and then return to find my oat milk perfectly steamed and foamy.
With over 5,200 ratings and 4.7 out of 5 stars, this small (but mighty) milk frother has solved my coffee ~dilemma~, and I feel like I'm having a cup of $3 coffee every morning. I've had it for about 8 months, and it's still kickin' — and it's super easy to clean and disassemble.
Another trick to making tasty, luxe coffee is using Quest's salted caramel protein shake (I learned this from a Facebook post) in place of regular milk when you use a milk frother or steamer. It adds some sweetness and creaminess to your coffee, and it's also relatively healthy-ish, since one full carton (and you'd only be using maybe 1/4 of one) contains 1g of sugar. I'm sure you can use other brands and flavors, BTW. You can even get pumpkin spice creamer and make yourself a copycat PSL. I am telling you. It is almost *all* about the frothiness.
Here's to many delicious cups of coffee and our happy savings accounts.