Thoughtful Gift Ideas For A Friend Going Through A Miscarriage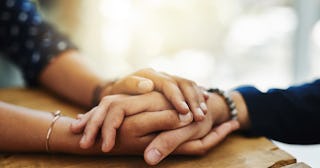 Getty Images/PeopleImages
Miscarriage gifts are meant to bring comfort in a time of inexpressible grief, but in these moments, it can be so difficult to know exactly how to support your hurting loved ones. So often we feel compelled to give someone a gift only in times of celebration, like a graduation, an engagement, or during a pregnancy. But some of the most appreciated gifts are actually those given during times of despair, like when someone is going through a miscarriage. Miscarriage presents are a way to say "I care;" to show a loved one that you know they are hurting and that, while you can't take away that hurt, you can offer the love and support that they so desperately need.
"Miscarriage is one of the most painful griefs anyone could ever go through," explains Ana De La Cruz, LMFT at Choosing Therapy.
"One of the best gifts a grieving mother can receive is an item that gives her the right to grieve and acknowledges her pain. In my experience working with many grieving mothers, the following items have been reported to be helpful because they represented hope: A small plant in a white pot, a small gardenia tree, and an empty treasure box (mother can use it to put the pregnancy tests results and ultrasound pictures of the baby)."
She adds some advice on how to express your support. "There are no perfect words that will aid the pain of a grieving mother, [but] sometimes a few words can go a long way. A simple, 'I am sorry for your loss,' 'That baby was blessed to have someone that loved him/her so much,' and finally, a supportive thought, 'I am here for you' could make a big difference."
According to the March of Dimes, as many as half of all pregnancies may end in miscarriage, which is a pretty shocking statistic to swallow. While this accounts for very early pregnancies, including women who don't yet know that they are pregnant to begin with, it is eye-opening nonetheless. It goes to show that no one is invulnerable to the possibility of losing a baby at any stage of pregnancy.
You might not know the right things to say—and that's okay—but sending a self-care gift for someone who lost a baby is a noble, generous thing to do, especially for someone who confided in you about their miscarriage in the first place. Below, we've gathered the best gifts for someone who lost a baby to help them through this difficult time.
Miscarriage Gifts That You Care
Miscarriage Care Packages
This article was originally published on