Nothing Makes More Sense Than Mister Rogers Prayer Candles
by Madison Vanderberg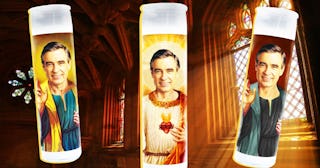 Scary Mommy, Illuminidol and Steven Moore/EyeEm/Getty
Mister Rogers prayer candles exist and here's where you can buy a few
Long before anyone had ever uttered the phrase, "self-care," there was a charming children's program on PBS called Mister Rogers' Neighborhood that was just as effective at lulling one into a zen state as any jade roller/essential oil/meditation app combo out there now. Kids and parents zoned out in front of the television screen daily to the soothing sounds of Mister Rogers' slow and calming ASMR-like voice as he gently and methodically changed his shoes or made simple crafts. Mister Rogers was so calm, so influential, and so revered in households across the U.S. that in some ways, he's become a kind of saint, so it only makes sense that Fred Rogers finally got the prayer candle treatment. Step aside Virgin Mary, because there's a new deity in town and his name is Fred Rogers.
Illuminidol sells three different Fred Rogers-inspired prayer candles for $15 each and 10% of all sales go a charity of your choice. Illuminidol calls their candle, "The most divine way to bless any Mr. Rogers disciple!"
FlixWixCandles on Etsy sells a Mister Rogers candle that shows him wearing one of his signature cardigans while holding his trusty puppet friend, Daniel. "Fred Rogers. One of the best people to roam the planet, EVER!" the description reads. "Mister Rogers' Neighborhood was an American staple that brought joy into our homes and educated our parents, us & our children. He was an activist and an advocate for children from ALL backgrounds."
A Mister Rogers prayer candle is extremely apropos considering there's a line in the new movie A Beautiful Day in the Neighborhood where the journalist character set to profile Tom Hanks' Fred Rogers calls him "a saint." However, despite the fact that this man was born to grace the side of a prayer candle, his wife Sara Joanne Byrd specifically told the filmmakers when making the movie to "not treat her husband as a saint," which was a tall order for the man who changed lives and seemed, well, perfect.
"He's out there now as somebody who's somehow way above all the rest of us," Byrd told the Los Angeles Times. "People invariably say, 'Well, I can't do that, but I sure do admire him. I would love to do it.' Well, you can do it. I'm convinced there are lots of Fred Rogerses out there."
And on that note, we'll light a Fred Rogers prayer candle in his honor and do something kind for our neighbor. It's a beautiful day in the neighborhood…
This article was originally published on