Learn All The Fancy Cocktail Recipes And Techniques With This Class That's Under $30
by Scary Mommy Team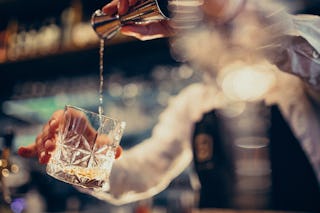 StackCommerce
The past year either led you to work toward cutting back on your drinking or indulge a little more than you used to— there's no in-between. If you're a member of the group that found themselves indulging a bit more, you may want to spruce up your skills with this 2021 Ultimate Mixology and Cocktail Trainer Bundle. It's 97 percent off today and will have you drinking cocktails you'd spend $22 on at a lobby bar right at home in your pajamas.
Most people have a go-to liquor and if yours is gin, the Ultimate Gin-Cocktail Course will tick all the boxes. You'll learn to create 20 of the world's most popular gin-based cocktails from Paul Martin, a world champion mixologist and Guinness World Record holder for the one-hour cocktail speed-mix. Martin will teach you everything from history to technique to get your gin drinks top-tier.
Learn the same focused education from Martin applied to rum, vodka, and tequila cocktails in the included Tequila-Cocktail, Ultimate Vodka-Cocktail, and Complete Guide to Creating Top Rum Cocktail Variations courses. Each will give you two-hours of instruction in perfecting your skill and knowledge of each liquor's respective flavor profiles and pairings.
Whiskey has captured the interest of many in recent years, making it a super beneficial focus if you plan to mix drinks for friends sometime soon, or if you want to pursue a career as a mixologist. The Ultimate Whisk(e)y-Cocktail Course will teach you the history of the drinks you're creating, techniques to make each world-class, and learn a focus for every palate— like creamy cocktails or pricklebacks.
Step-up your skills behind the bar with the 2021 Ultimate Mixology and Cocktail Trainer Bundle while the five-course bundle is 97 percent off at a final price of $29.99.
Prices subject to change.
This article was originally published on