No-Bullshit Lingerie That's Comfortable And Sexy AF
by Alesandra Dubin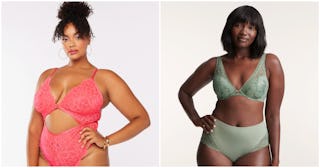 Savage x Fenty/ Third Love
Yo, don't get us started on mom lingerie stereotypes. Just because we birthed babies does not automatically transition us to the granny panties club. Tattered old shapeless lingerie? Hard pass. Just like, you know, non-moms, we want to look and feel our best in our underthings. That said, the thong panties we wore (OK, I wore) riding above low-slung jeans in college do tend to lose their bedazzle over time, as our bodies change and we grow up a bit. The boobs might grow or shrink, the hips might expand — in short, the cargo shifts. But you're still looking good as hell, and you deserve some sexy lingerie.
RELATED: These Sports Bras *Actually* Support You While You Work Out
So whether you're a postpartum mom in search of nursing functionality and comfort (yes, comfort can be beautiful, too), or you're in a whole new phase of life with older kids, consult our list of the best lingerie that makes you look and feel great.
Best Hot Mom Lingerie:
This article was originally published on