We Must Have This Color-Changing Moonlamp Nightlight In Our Lives, Immediately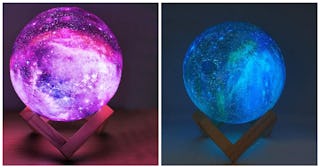 Amazon
We're always looking to add a little bit more magic to our lives, especially these days. And sometimes, we'll take whimsical over practical — especially when it comes to kids' rooms. Right now, you can get a moon lamp for your kids, your friend's kids (or, honestly, yourself) on Amazon for $17. The globe provides a calming glow in the night, and lets you change its colors by using a switch located at the bottom of the globe (it can transform up to seven colors).
Other features include: A remote control that allows you to dim the light, making it as soft or bright as you want, a built-in 500mAh polymer-lithium battery that gives this lit moon 8-24 hours of energy (you just have to charge it when it it's out of juice), and it's truly designed to look just like the moon (with a cratered surface and all).
"My daughter got this as a Christmas gift. It is such a fun and unique little gift. Everyone loves it, and we love the fact that you don't have to have the remote to change the color. I also enjoy being able to carry it around without a cord and it still lights up. I have older kids, so I don't know how well it would hold up for younger ones. It seems like it is made from a pretty sturdy plastic," one reviewer wrote.
It's even cat-approved.
"I like bright shiny things and I was mesmerized by the moon nightlights I see online, and this one?? Defied expectations, and I love the color options! I used to turn it on, and spend more time holding it like a giant cosmic egg and playing with it and it even formed a base for one of my stories! (About a girl who meets another girl who makes planets and sends them up into space to grow bigger) and even my cat likes this!" another customer reviewed.
We'll take one for ourselves and our kids, thanks.
This article was originally published on