You Wanted More Affordable & Fun Walmart Clothes And We Delivered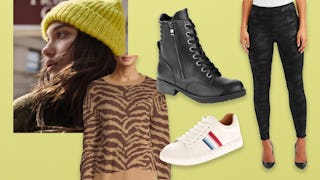 Here at Scary Mommy, we live by the motto, "Give the readers what they want." Last week we shared the new super-cute and highly affordable collections recently launched at Walmart, and the response from our audience was pretty amazing. So we're going for another round of Walmart winners, or to quote Billy Idol, "More, more, more!"
RELATED: These Adorable Baby Jean Jackets Will Make You Want To Match With Your Mini
This short-sleeved shirt has an unexpected piece of flair in the form of a front ruffle. Pairs just as well with a skirt as your favorite jeans.
This might be a peasant dress, but you'll look like jungle royalty in this animal print, Mama. Meow.
These high rise skinny jeans are designed to flatter, hold and lift. Tuck everything in there and flaunt your curves.
Whether you call it a shirt or a dress, this plaid button front tunic is soft, light, and looks fab over black leggings.
Let's make every day a jegging day. These super comfy stretch "jeans" slip right on and don't even require a zipper or snap. Love.
Athletic Works Women's Athleisure Cowl Neck Tunic Sweatshirt
Before you reach for that old ratty sweatshirt again, consider grabbing something just as comfortable but way more stylish. The oversize fit and cowl neck will keep you warm and cozy.
The perfect addition to your casual fall and winter wardrobe. This fuzzy, comfy sherpa styled in trendy camo looks great with jeans.
These cute lace-up trainers have a canvas upper with a striped accent. You'll have Ellen's look, but can you dance like her? With the added footbed to help reduce fatigue, you never know.
Is it possible to look stylish AND relaxed. Sofia Vergara thinks so, and we agree. These are made of super-soft and stretchy denim which means no "breaking in" necessary.
Your leggings are getting an upgrade. This cool camo-styled pair is made of a soft and stretchy ponte fabric that looks smooth and feels great.
Be a weekend warrior and fight the cold weather and the muddy playground in these combat boots. They look great with jeans and that new leather jacket you've been meaning to buy.
These low-heeled ankle boots look classy and high end. Wear them to work with wool slacks or out on the weekend with your favorite skinny jeans.
Cushioned and luxurious, these quilted slip-ons are an upgrade to your typical sporty shoe. Made with memory foam for added comfort.
Grab this off-the-shoulder romper because it's ridiculously cheap. Wear it under a chunky sweater or save it for next summer. Either way, you win.
It's the call of the wild, Mama, and you know you have to answer. Pair this fun zebra print pullover with a neutral bottom to show off your jungle boogie.
Three cheers for chevron – so retro and cool. The long dolman balloon sleeves give this sweater a feminine flair.
This puffer jacket is like wearing your own personal teddy bear — which is way less creepy than it probably sounds.
We love this retro plaid jacket from the exclusive Ellen DeGeneres for Walmart Collection because reminds us of all the characters in 'A Christmas Story.' Hey Ralphie!
Think new jeans with pre-torn holes are cool? Just wait. These soft, stretchy jeans have fun plaid patches sewn right on for a unique, lived-in look.
It's finally beanie weather, so pick up this set of soft rib knit fabric hats to make sure your head stays warm and your ensemble stays sharp.
We love the easy style and comfort of athleisure and this slouchy pullover fits the bill. It looks great with yoga pants or jeans.
These cute and comfortable pants feature roomy cargo pockets, a front drawstring, elastic waistband, and cuffed ankles. Wear them to run your weekend errands or meeting your gal pals for coffee.
Although we only recommend picks we really love, we may earn a commission on purchases made through links from our site.
This article was originally published on