Even Kids Who Don't Love To Read (Yet!) Love Mystery Books— From Classics Like Nancy Drew to Modern Monsters In The Notebook of Doom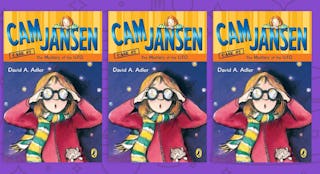 Getting the kiddos to commit to anything—whether it's eating their veggies or picking up their socks—can often feel like a chore. But LBH, reading is definitely more fun than eating broccoli (no $h!t, Sherlock), especially when page-turning mystery books are the genre of choice. From basic BabyLit primers (think along the lines of "who stole the cookies from the cookie jar?") to suspenseful thrillers with a more substantial storyline, it's never too early to get your little ones to jump onboard the mystery bandwagon.
So what exactly does a good mystery entail? Ultimately, mystery books present an issue or problem at the start of the story that will need to be solved. Clues will then be weaved in throughout the plot as the main characters collect the "bread crumbs" to solve the case or come to a solution. Think classic Nancy Drew problem-solving techniques. With good friends (and overtly obvious clues), there is always a happy outcome waiting to be revealed.
Check out these 12 page-turning mystery books for kids and teens that will instill a newfound love for reading in 2020. From OG classics that you read as a child to popular YA chapter book series that get you so hooked you end up binge-reading the entire series (#guilty), there's a little something for everyone.
Toddler
Ages 5-8
Ages 8-12
Early Teen
Need new book recommendations to jumpstart 2020? Check out these best books to build your toddler's library.
This article was originally published on