The Best Books To Help You Understand Narcissism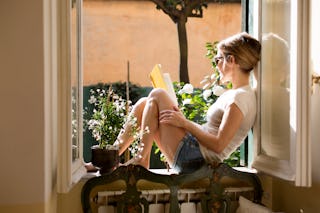 Kathrin Ziegler/Getty Images
You probably think this book is about you
The word narcissism gets thrown around a lot — and everyone on earth does a narcissistic thing here and there. But when it comes to narcissistic personality disorder, a real and serious psychological problem, it can affect the daily lives of entire families and even down through the generations. If you have a narcissistic person in your life, or grew up with one, it's vital that you understand the issue fully as well as its affect on you — from their traits to their motives to their actions. Having a narcissistic parent, partner, or ex can have lasting consequences, but it's possible to understand and move on.
This is certainly not an exhaustive list of books about narcissism, but these are the ones that helped us most when it came to learning about the subject and better understanding narcissistic people and their impact on others. From straight psychological non-fiction to self-help, these books will educate you and help you act, and help you heal.
We only include products that have been independently selected by Scary Mommy's editorial team. However, we may receive a portion of sales if you purchase a product through a link in this article.