Non-Candy Easter Basket Stuffers That Are Sweet Without The Sugar Crash
by Karen Tietjen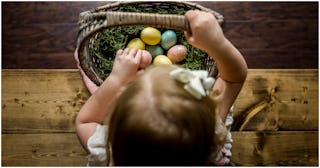 Getty Images
Bunny stuffed animals, Easter bunny toys, Peep pillows, and mini playsets — plus other non-candy Easter basket stuffers — can help lighten up the sugar load come Easter morning. (P.S. You'll want a cute Easter basket, too!) Don't get us wrong: Our favorite spring holiday just wouldn't be the same without Cadbury eggs and marshmallow Peeps. But if you don't want candy to completely overtake your day (and inevitably, lead to a sugar-induced meltdown), try gifting your kids with treats that won't lead to an energy high followed by a crash and a day-long stomachache. Also, the addition of a few healthy snacks wouldn't hurt, either.
With spring in the air, sugar-free Easter basket stuffers like fluffy plushies (bonus if they're inspired by classic storybooks), soothing sleepytime accessories, and other fun trinkets are a festive way to celebrate. These presents can be used long after the Reese's bunny is gone, and — perhaps we're being optimistic, here — your creative gifting may even earn you a relaxing morning instead of the usual chocolate-fueled mania. Now, doesn't that sound nice?
With Easter almost here, the time to start assembling baskets for your little (or big) ones is now. See our fave fun gift ideas that are sweet as candy— sans the sugar.
Best Bunny Stuffed Animals
Best Easter Bunny Toys
Best Peep Pillows
Best Easter Basket Stuffers For Toddlers
Best Easter Basket Stuffers For Kids