Use These Online Photo Printing Sites And Apps To Make Beautiful, Personalized Gifts For The Fam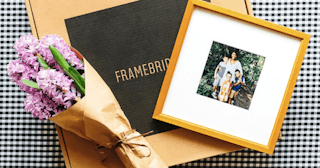 Framebridge
Looking for the best online photo printing ideas for the holidays or an upcoming birthday? If you're a parent, there are few things you love more than getting photos printed of your beautiful children. No matter how many hours a day you stare at their adorable faces, you just can't get enough—so you need a printed version that you can keep in your living room, on your office desk and by your bedside table (yes all three places). And maybe some to frame and send to your parents for the holidays (#EasiestPresentEver) because you just can't go wrong with that.
Even though you might spend the majority of your day wishing that nap or bedtime would come a little sooner, you probably also spend the majority of the time they are asleep wishing they weren't. Quality photo printing can ease the sting of the obsessiveness you feel about your kids (let's face it, we all have it).
But with so many sites offering photo printing of every kind, it can be overwhelming to know where to order from. Lucky for you, we've got your back and are sharing some of the best of the best photo printing sites for parents to print photos of their most prized possessions: their kiddos. Scroll through to see what companies made the list.
Best online photo printing ideas:
Looking for more gift-friendly products for the holiday season? Check out all our gift guides here.
This article was originally published on