Stay Cool For The Summer With This Personal A/C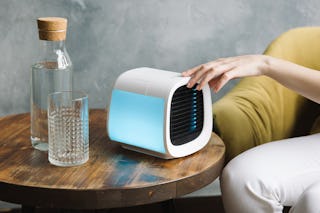 StackCommerce
Summer is almost here! As we start figuring out summer plans for the whole family (you better believe the kids will be attending a summer camp so we can take a much-needed break!), there's one thing that can always be counted on: the scorching hot weather. Instead of dreading the dog days of summer, it's time to get prepared. A personal air conditioner can prevent a whole lot of fights with your partner, help to lower that sky-high A/C bill, and ensure you aren't sweating your way through the most fun season of the year.
Let the EvaChill EV-500 Personal Air Conditioner improve your summer mood, providing you with an easy way to drop the air temperature around you an impressive 59º in just 10 minutes. This portable A/C is not only super convenient and portable, it's eco-friendly, too! There are no downsides to this one, as it's even been named the 2019 Red Dot Design Award Winner. And, right now, it's available for just $79.99 for a limited time.
Curious how this magical climate solution works? It's simple and sets up with just one button, and all you have to do is fill the water tank and connect it to a power supply. From there, the cartridge absorbs large amounts of water, which spread evenly through the cooling pads as air blows through them. The water then evaporates to lower the air temperature around you, with no heat exhausted at all. That impressive, natural, evaporative cooling effect will drop the air temp up to 59º in a quick 10 minutes.
It has a nine-hour runtime, which makes it perfect for those nights you just can't get comfortable. Keeping a cool temperature can increase your sleep quality, and the EvaChill EV-500 also adds another healthy benefit in the process. It filters out dust particles and increases the air quality around you at the same time.
Stay cool and get better sleep this summer with the power of the EvaChill EV-500 Personal Air Conditioner. It's available now for $79.99, for a limited time.
Prices subject to change.
This article was originally published on