Snail Mail Is Not Dead: 9 Best Personalized Stationery Sets For Busy Gals Who Appreciate The Written Word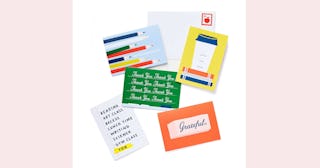 As we all continue to adapt and adjust to a new normal (whatever that may mean for you), correspondence with your loved ones is NOT canceled. While you may not be able to meet up for coffee or gather with the fam for a backyard barbecue, you can still take the time to write. And we don't just mean sending a short text filled with your favorite emojis and internet slang or hopping on for a quick Zoom call. If you're not already equipped with cute stationery and fancy writing utensils, then now would be a good time to join the writer's club.
There's something super sacred and special about receiving a sweet note in your mailbox. For every handwritten note you send, imagine the recipient doing a little happy dance. Virtual smiles and sentiments are contagious! Whether it's your long-distance bestie, your kiddo's favorite teacher, or a relative that you wish you could squeeze extra tightly, taking the time to write can often mean the world to someone.
Don't forget to dot your i's and cross your t's! Check out the nine best personalized stationery sets and blank notecards for every occasion. From birthdays and well-wishes to messages of condolence, the style of your stationery should match the tone of your letter. We've even got you covered with custom stationery options that can double for your work and personal life, as well as a few kid-approved stationery sets that will encourage letter writing at an early age!
Looking to tidy up your life and at-home living space? Check out more of our favorite home and kitchen essentials!