Your Kids' Names On A Leather Bracelet Is The Perfect Dad Gift
by Cassandra Stone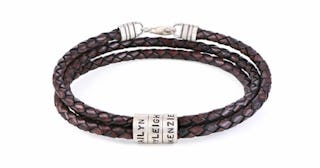 MyNameNecklace.com
It's no secret that men are extremely difficult to shop for, which is why this dad bracelet is perfect
Every holiday season, checking off names and gifts from your list is extremely satisfying. Until the end of the list, when you realize the men in your life are still on it. Because men are, as a whole, impossible to shop for. Until now, because these personalized leather bracelets are awesome gifts for the dad in your life.
If you're worried about your man looking like Chandler Bing in the episode of Friends where Joey gifts him a "Mr. T" bracelet — fear not. This is… not that.
Think about it. There are endless options for personalized jewelry for women out there — moms, grandmas, aunts, friends, daughters. But not a lot of that, if any, is ever geared toward fathers (a rant about toxic masculinity is not in the cards today, but please know that has everything to do with it).
Which is why dads need this leather bracelet — it comes in black and brown braided leather with silver beads that you can personalize with names or whatever you want. There are plenty of similar options to choose from, too. Now dads can honor their kids and not worry about competing with the shine and sparkle of your own jewelry (unless they want to, of course). Honestly, bracelets like this are a great option for any parent.
There's this leather cuff with a nameplate, which comes in chocolate brown leather.
For example, when you're elbows-deep in diapers, dirty laundry, and household cleaning products, that 14-carat gold Pandora bracelet might not be what you want to wear. Or maybe leather just goes better with your personal style. Either way, this is just a great accessory.
This option is great if you want to include the kids' names and also birthdates.
The braided look even works well in this circle hoop style — with silver discs for personalization.
These bracelets look good on, too, in case you're wondering about that.
So be sure to add these to your list for the special man in your life, because it's so much better than the ties/golf balls/novelty tee, socks, Costco underwear, NFL hoodie, or another of the same bottle of cologne he's worn since college.
And if this is for you or any other parent you know, well, it's a solid choice and before you can even ask — yes, it goes with that outfit you're wearing.
Plus the kids will love seeing their names on their parent's wrist, and honestly, that's reason enough to buy it.
This article was originally published on